Stage 2 started and finished in the UNESCO World Heritage Site of Ayutthaya.  I hadn't really paid much attention to where we were, due to a few hotel room issues in addition to editing Stage 1 photos, so I was pleasantly surprised when we re-entered the city for the closing few kilometers. The temples and elephants were quite distracting.
After a short neutral zone at the start the attacks started and eventually a group of 4 got away.  I stayed with the peleton for a while before moving up the road to the break.  To my surprise there was a rider in no-mans-land trying to bridge across – Jimmy Butler was that man and he was flying! I really thought he was going to make it. He was within sight of the break when he came upon an over-bridge and this must have been what cooked him as after that the gap to the break began to grow.  I really wanted to give him a draft behind our motorbike but thought better of it and we left Jimmy to battle the heat and small breeze by himself.  If only we had stayed with him for a few more kilometers – there was a left turn where the tour signage was hard to spot and Jimmy (and a couple of others) missed it and ended up 80km from the finish after he had already ridden 110km chasing down the break – bugger!
Once I caught up with the break – after getting a bit lost ourselves – I stayed with them to the finish line. This is where the race came a bit unraveled and got very confusing.  I'm not sure if we were supposed to do laps of the city center but we did about 4 before heading to the finish.  To our surprise the peleton had already finished, after having dramas of their own, and they had agreed amongst themselves to neutralise the stage.  In typical Thai fashion it was all sorted out without any fuss and it was on to stage 3.  Below are a few images from the days racing and you can see the Stage 2 gallery here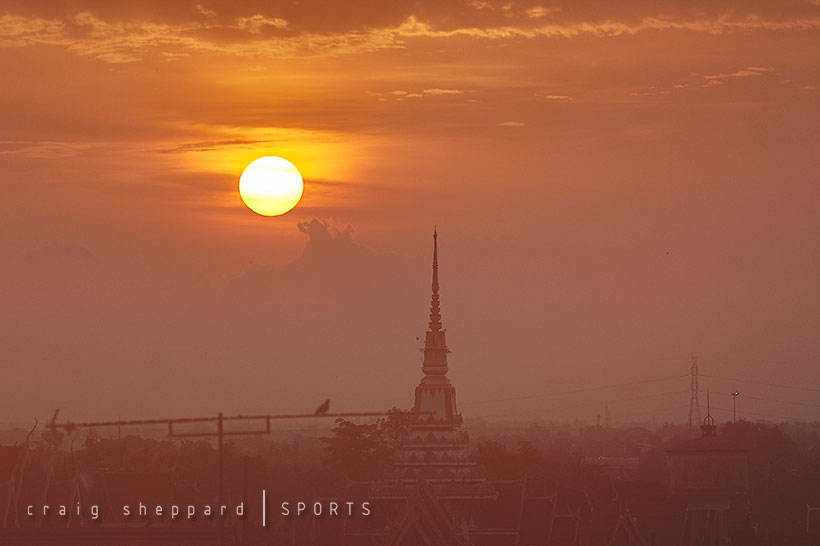 Sunrise over Ayutthaya.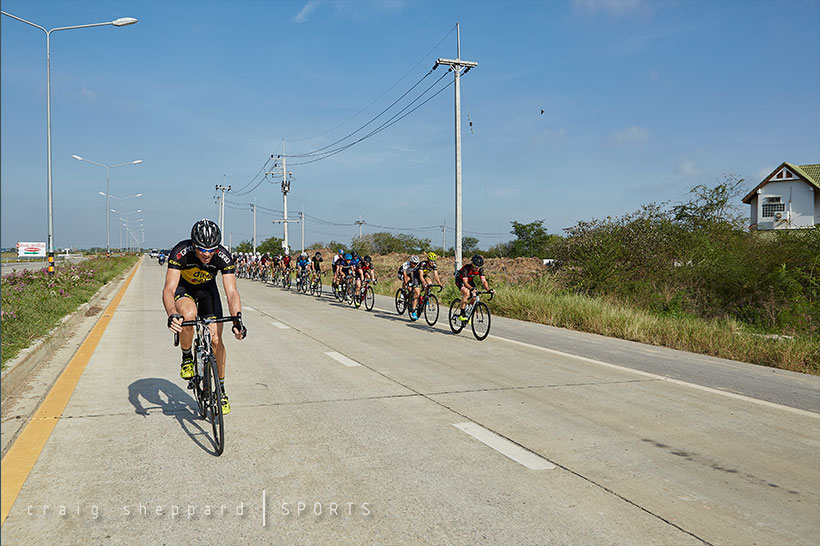 The first attacks start.

Small groups tried and failed to get across to the break.

The break worked well together.

The break rolls through at speeds around the mid 50km/hr mark.


Jimmy Butler going full gas to get to the break.  The break was so close…..yet so far.

The break races past the elephants.

Ayutthaya Temples were impressive (yet distracting).

Tough day in the saddle for some!